When you have an oil range service by Alemco, you can relax in knowing that a full, thorough service will take place. Below we have provided some good information on our process and what to expect. We can also carry out relocations and new installations, as well as some good tips on how to keep your range clean while using it.
ALEMCO can offer a comprehensive service for your range, to ensure it is kept in prime working order and continues to operate safely and efficiently.
It is recommended (as per manufacturer's guidelines) that any vaporizing range should be serviced every six months with pressure jet models, serviced annually.
Once you become a customer with ALEMCO we will contact you when your range becomes due for a service to arrange a mutually convenient time for a trained engineer to call.
In the event of a breakdown we will endeavour to have an engineer with you as quickly as possible. We carry a varied stock of spares and in most cases are able to carry out on-site repairs.
We ask that the Range is turned off the evening before we are due to service you appliance.
If you are moving house and just can't bear to leave your range behind, or wish it to be moved to a new kitchen, we can dismantle, relocate and reassemble for you.
Working with any range can be a messy job, ALEMCO take great care when carrying out work to keep the mess to a minimum and we will ensure that everything is cleaned up before we leave.
Isolate electrical supply and oil supply
Remove service hatch and check seals
Remove burner pot from housing
Remove clean and inspect shells and hob
Remove and inspect wicks
Clean high level chamber and flue ways
Clean low level combustion chamber
Remove oil inlet pipe and check for any obstructions
Clean burner pot and oil ways
Clean, clear and decarbonise inlet aperture and well
Reinstate oil inlet pipe, and wicks (a new set every 12 months)
Replace shells in correct orientation
Replace or clean oil filters
Check, clean and inspect Oil Control Valve
Check and inspect remote fire valves
Refit burner pot and hob
Reinstate electrical supply and oil supply
Open Oil Control Valve
Allow approximately 15 minutes for well, oil ways and wicks to fill
Preheat flue if necessary
Ignite wicks and close lighting aperture
Check room ventilation
Inspect oil tank
Check oil line integrity
Check flame picture and shell colour
Check flue draft
At ALEMCO it is our policy to make sure you understand your range, so our engineer will run through frequently asked queries and servicing requirements following installation. If you have any further queries after installation, call us, we will be happy to answer them. Our service department will contact you following installation and prior to the appliance being due for a routine service to offer a convenient date.
The following shows the installation process:
Many of our domestic clients (particularly those in rural areas) favour traditional solutions to heating and cooking. We specialise in the installation of range cookers and boilers. These products vary from simple range cookers, suitable for heating a room, through to range cookers that incorporate an oven and back boiler for heating a whole house and providing hot water.
Alemco are able to install and service a diverse range of makes and models, with service engineers specially trained on these products.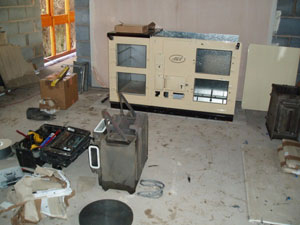 AGAs are big, solid cast iron cookers and if you have ever wondered how they are installed then you may be surprised to know that they come almost "flat-packed" (well all in bits on a pallet to be exact). It took the AGA engineers a whole day to build the AGA shown here.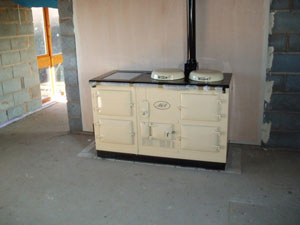 The AGA arrives in pieces, packed on a wooden pallet(s). In terms of size, there have to date been no instances where we have not been able to move a range into the house. We will ask that you check the appliance once it is assembled and installed and then we run through the handover procedure.
A Range cooker/boiler is very easy to keep clean, particularly if you don't allow it to become ingrained! The following tips may be of help:
The cast iron ovens and hotplate help to keep themselves clean by carbonising cooking spills and splashes, when they are up to full temperature. Just brush off the carbon dust. For stubborn stains don't be afraid to use a wire brush on the plain cast iron components
Splashes and spills on the vitreous enamel should be wiped away as soon as possible, using a damp (not wet) soft cloth. You can also use an enamel cleaner such as 'Astonish' but any product must carry the V.E.D.C approval mark specifically for use on vitreous enamel. Never use a cold, wet cloth or anything caustic on the enamel
If spills have become burned on to the enamel use a soap filled pad, but not too coarse, so as to avoid scratching the enamel
Likewise the inner door linings, lid linings and steel ovens can be cleaned with a soap filled pad and cream cleanser
The doors may be carefully lifted off to make cleaning easier, but don't get them mixed up or immerse in water
Chrome or polished areas should be cleaned with a damp soapy cloth, followed by a wet cloth, finished by polishing with a clean, dry cloth
Any spillage of milk or fruit juices on the enamel surfaces must be wiped up straight away, to prevent permanent damage
If liquids boil over or drip down around the hotplate, don't worry. They will be absorbed by the rope seals and will quickly evaporate
Some components such as the hand-rail brackets and cooker side panels are powder coated (a paint process) and nothing abrasive should be used on them even 'Astonish'
If fluff or dust builds up around the burner door and its controls or the flue chamber area, this can be safely brushed away. A vacuum cleaner may also be used, providing the appliance is not alight
A Range cooker / boiler has its major front and top, cast iron surfaces coated with vitreous enamel, which is effectively a coloured glass material.
This provides an attractive, yet extremely durable finish, which is easy to keep clean. Inevitably, over many years of use, small accidental chips may occur and these can easily be repaired by the use of special repair kits, which should be available from your Rayburn stockist.
Ordinary gloss or enamel paints are unsuitable as they are generally not resistant to heat, grease or acid from food spills and are unlikely to adhere to the cast iron surface. Light scratched areas can be improved by cleaning, then polishing with a beeswax polish to fill the scratches.
If larger areas become damaged or if you wish to make a colour change, it may be best to renew the components concerned. Check availability with your Stockist.
The range / boiler cooker side-panels are powder coated (painted), not enamelled, and can rarely be satisfactorily repaired on site. If damaged or corroded they should be renewed.
We specialise in vaporising range cookers, dealing with the below brands: